Deming Speedway - Night #3 - 4/15/16
By: info@speedmartinc.com ~ 4/22/2016
Deming Speedway
April 15, 2016
In the Kasey Kahne Juniors the feature event would see Chase Stuart and Haylee Bloodgood on the front row. In one lap Alex Gouy would take his #3C to the front. By the fourth lap, Lane Taylor would have his #4L in the front spot after making his way from his fourth starting position. Haley Constance would come from her sixth starting spot and challenge Lane for the lead. She and Lane would swap the first and second positions for the next couple of laps. Haley would be able to use lapped traffic to her advantage and take the lead on lap 16. She would jet away to take the win. Lane would follow in second and Alex Gouy would make a last lap pass to take third.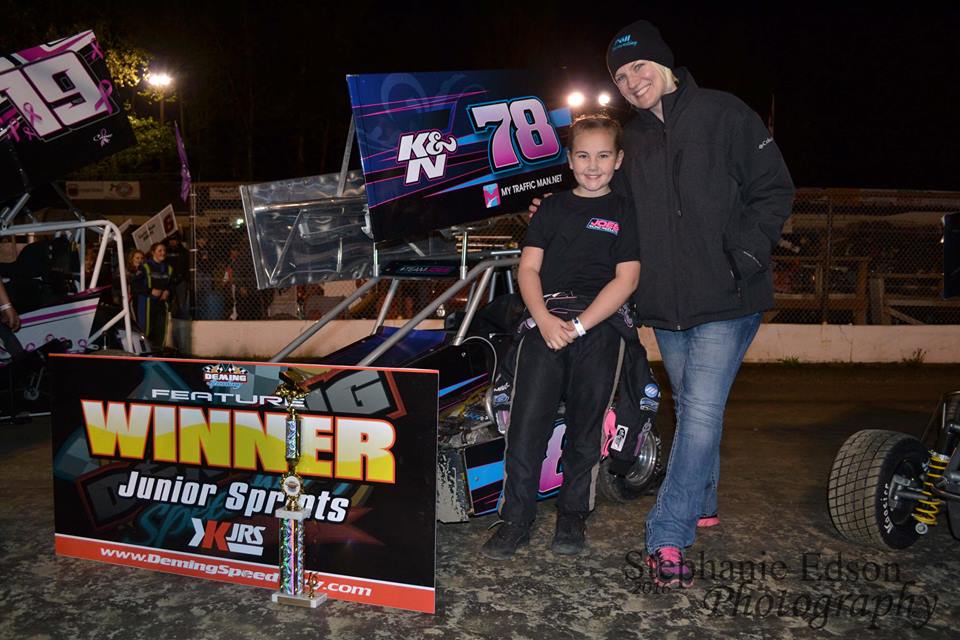 Quick times in the qualifying sections were Macie Logsdon, Haley Constance and Alex Gouy.
Heat race wins went to Macie, Haley and Lane Taylor.
Colby Thornhill would take the initial lead and would dominate the Mytrafficman.net 600 Restricted feature event. Kaden Holm would challenge him during the race but couldn't quite get that extra push to make a move to pass Colby. Colby would go onto take his second win in as many weeks. Kaden would take second and Bailey Sucich would make a late race pass to take third.
Quick times in the qualifying sections were Bailey Sucich and Jesse Schlotfeldt.
Peyton Hagen and Jesse would take the heat wins.
Tyson Cross would use his front row starting position to his advantage and take the lead of the Shots2 Go Espresso 1200's feature event. He would go Henchcraft chassis to an impressive win for his first of the season at Deming Speedway. Steven Hendrickson would come from his sixth starting position and make a late race pass to finish second. Clennon Holloway would finish strong in third.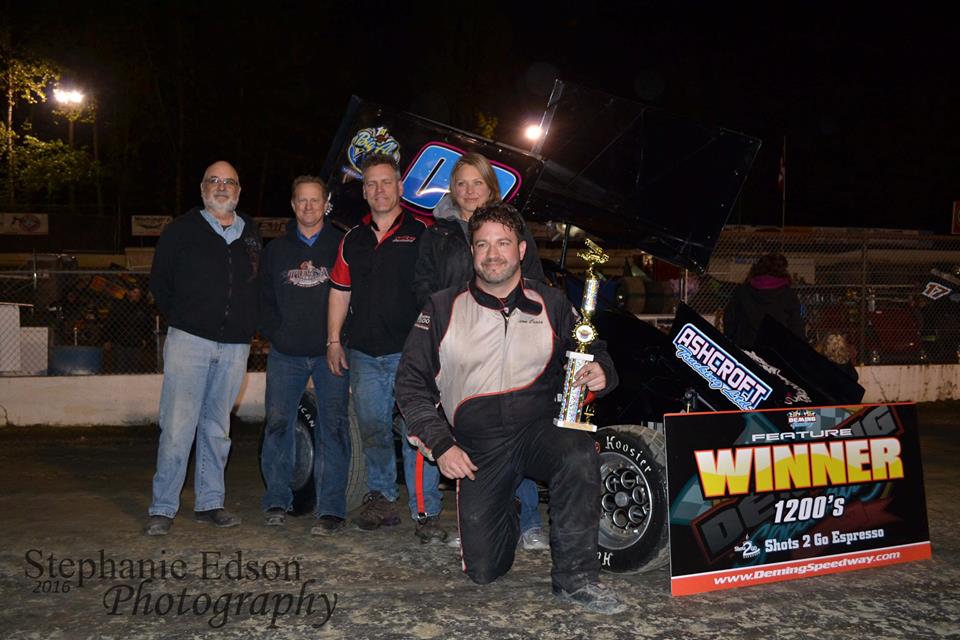 Quick times were Jared Gundersen and Seth Hespe,
Heat race wins went to Clennon Holloway and Zach Keefe.
Jared Peterson, piloting the Farrell Frameworks #51F, would go to the lead of the SpeedMart/Hoosier 600 feature event with Kyle Mitchell right behind. Meanwhile, Liam Ryan, using the fast way around, would come from his fifth starting spot to make his way to second, staying right with Jared. A late race caution would help Liam as he was able to take advantage and make the pass to take the lead. He then would lead the final eight laps to take the win. Jared would finish second and Kyle Mitchell would take third.
Quick times would go to Dallas Melby, Liam Ryan and Chance Crum.
Heats would be won by Jesse Schlotfeldt, Kyle Mitchell and Kevin Wilkinson. The B feature would be won by Dylan Resch.

---