Deming Speedway - September 9, 2016
By: info@speedmartinc.com ~ 9/12/2016
Deming Speedway
September 9, 2016
Metcalfe wins his second Shots 2 Go Espresso 1200 Feature Event
Frosty would get the lead late in the feature to go on to the win. He would have to hold off a late hard charging Steven Hendrickson to earn his second win of the 2016 season. Steven would keep the second spot with Dwayne Mackey taking third.
Heats would be won by Brock Lemley and Nate Vaughn. Brock, with a 11.027, and Nate, with a 10.997, would be the fast times.
Chance Crum takes his 6th win in the SpeedMart/Hoosier 600 Division
Chance would dominate the feature event taking his Farrell Frameworks #83C to the win. Jared Peterson, piloting the Jon Farrell #51F, would put some pressure on Chance, but would have to settle for second. Kyle Mitchell would finish third.
Heats would be won by Cody Hogarth, Jesse Schlotfeldt and Kaitlyn Hammer. Chance, with a 10.205, Jared, with a 10.102 and Kyle, with a 10.244 would set the fast times.
Colby Thornhill would go onto win his fifth MyTrafficman.net 600 Restricted feature event
Colby would get to the front early in the race and would not look back as he went on to his win. It would be the battle for second between Parker Hadlock, driving the Schlotfeldt #21, Kaden Holm and Sawyer Sorgenfrei. It would be Parker taking the runner up spot and Sawyer getting past Kaden with two laps to go to take third.
Colby would take a heat win and set one of the fast times (11.163). Tyson Lemley was the other heat winner and fast time (11.073).
Haley Constance wins her eighth feature in the Kasey Kahne Junior Sprints
Haley would work her way to front, passing Blaine Granberg to take the lead late in the race and go onto her win. Blaine would maintain the second spot and it would be Alex Gouy taking third.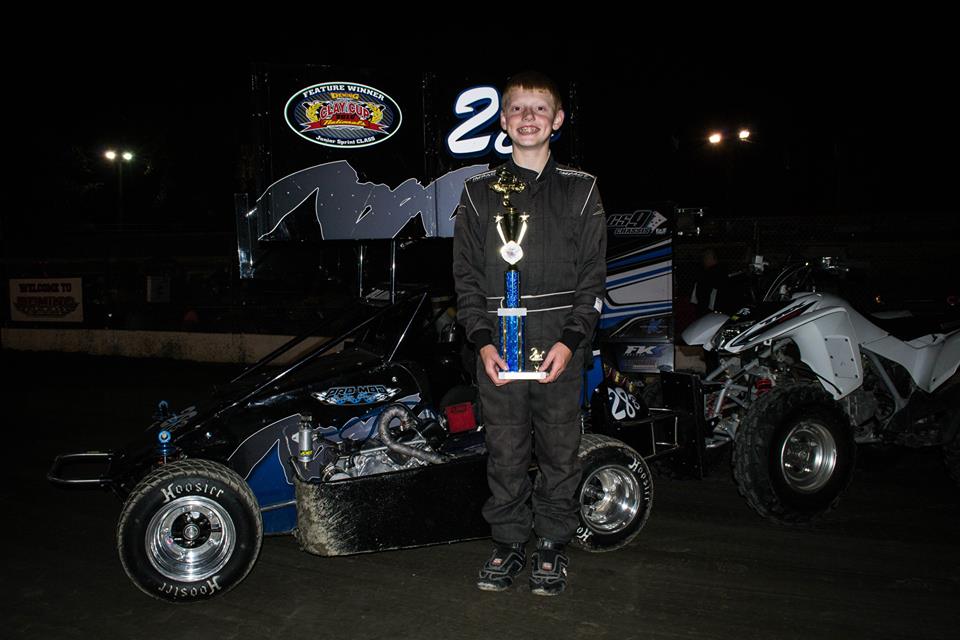 Haley and Blaine would take heat wins and both would set fast times, Haley with a 12.850 and Blaine with a 12.994.

---