Deming Speedway - August 5, 2016
By: info@speedmartinc.com ~ 8/8/2016
Deming Speedway
August 5, 2016
Chance Crum would take the Lemley #10 to the win in the Shots2Go Espresso 1200's feature. Chance started fourth and would work his way to the lead passing Nate Vaughn on lap 11 and go on to take the win.
Nate would stay in the second spot and Steven Hendrickson finished third.
Nate and Steven would also take heat wins. Jared Gundersen and Tyson Cross would set quick times.
Kyle Johnson would take to the initial lead in the Andrews #10. Kyle Mitchell, starting fifth, would take the lead on lap 13, passing Johnson, going on to take the win in the SpeedMart/Hoosier 600 division.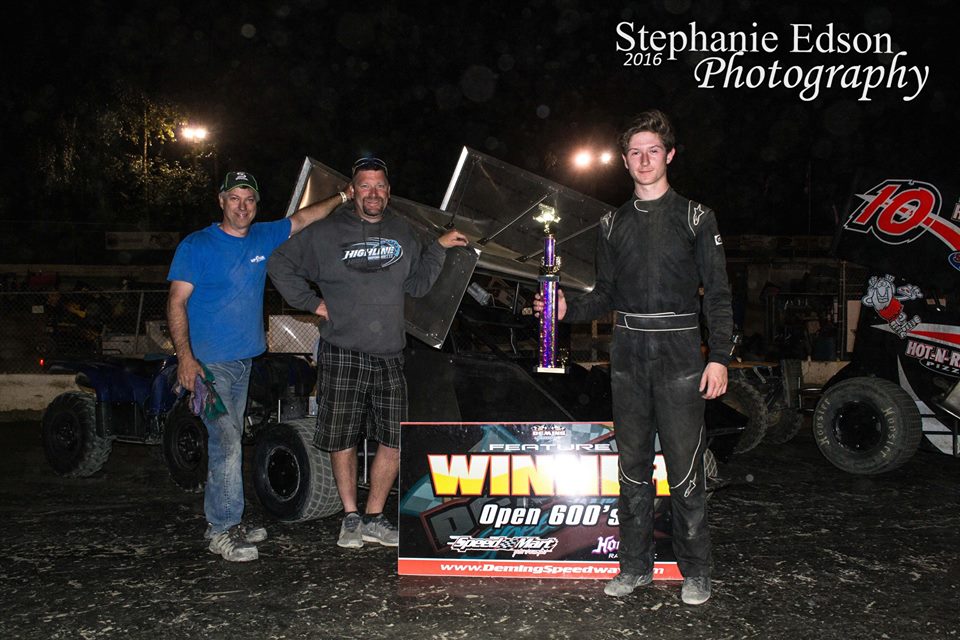 Chance Crum would make a late pass to go onto take second and Johnson would finish in third.
Heat wins would go to Kyle Johnson, Kyle Mitchell and Peyton Reed. Tanner Holm, Chance Crum and Jon Farrell would have quick times.
Jesse Schlotfeldt would get his seventh win in the MyTrafficman.net 600 Restricted division at Deming Speedway. It would not come easy as he would have to fight Peyton Hagen for the top spot.
Peyton would take second with Tyler McLeod finishing in the top three.
Heat winners were Peyton, Levi Klatt and Bailey Sucich. Quick times were set by Sawyer Sorgenfrei, Tyson Lemley and Bailey.
Blaine Granberg would take his fourth win in a row in the Kasey Kahne Junior Sprint division. Blaine, starting fourth, would take the lead on lap eight and not look back as he took the win.
Alex Gouy would take second and Carson Guffie finished third.
Heats were won by Haley Constance and Blaine. Quick times were set by Haley and Macie Logsdon.

---