Skagit Speedway - Summer Nationals - July 29 & 30, 2016
By: info@speedmartinc.com ~ 8/2/2016
Skagit Speedway
Summer Nationals - July 29th & 30th, 2016
Roger Crockett would take the lead with four laps to go to win the opening night of the Bobís Burgers & Brew Summer Nationals and would lock himself, along with Evan Margeson, Jared Peterson and Colton Heath, into a top eight start for Saturday nightís finale.
Colton Heath would lead from the outset with Jason Solwold chasing him. Jason would take the lead from Colton on lap three, as he would get into lapped cars, Colton and Roger would experiment with their racing lines. Jason was able to put three lapped cars between himself and those chasing him, then trouble would happen coming to complete lap 12. There would be three cars collected up in the middle of turn four and, unfortunately, Jason had nowhere to go and he would get collected with Robbie Price, Mack Brown and Bud Ashe, which would cause a red flag. Those three drivers would be finished for the evening, but Jason went to the pits for repairs, making his way back and getting up to eighth place. On the restart, Colton would resume the lead with Roger right on his heels. Colton seemed to be getting away from Roger until a lap 13 caution for Cam Smith tightened the field once again. That restart saw Colton once again stretch his lead on Roger, but a lap 17 yellow for Jared Ridge would bunch them up one final time. Roger had been following Colton's line around the track but on the restart, he changed his line to go high around the turns. This would pay off as Roger was able to build a huge head of steam and crossed underneath Colton on the back straight on lap 21 to take the lead. From there, Roger returned to the high groove where he held strong and grabbed the win. Heath would take second with Evan Margeson third.
B Main winners were Jared Ridge and Nate Vaughn.
Heats were won by Evan Margeson, Travis Rilat, Jason Solwold and Jared Peterson. Fast time was set by Roger Crockett.
Roger Crockett swept away with $10,000 in his pocket after winning the main event for the Bobís Burgers & Brew Summer Nationals at Skagit Speedway.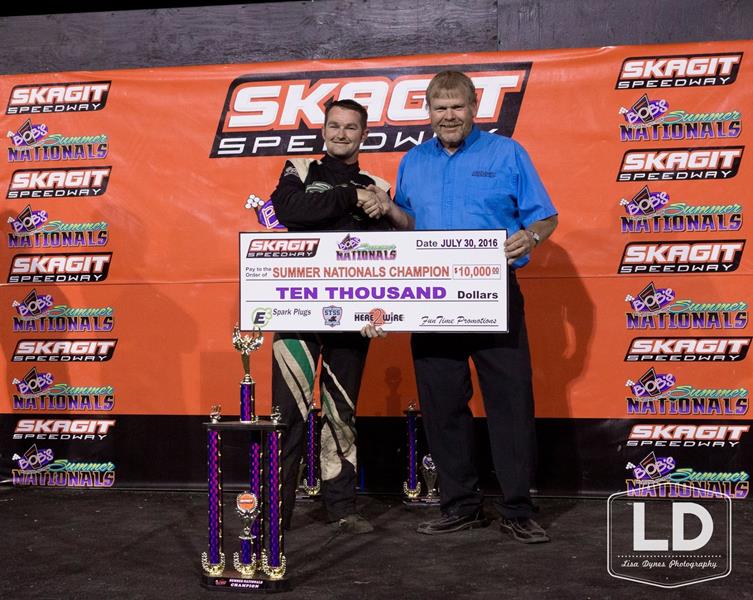 Travis Rilat would take the lead from his pole position with Evan Margeson and JJ Hickle right behind. Three cautions would slow the race over the first three laps, but once the race got going the action commenced with action happening so fast that it was nearly impossible to decide where to watch. Travis went out to a huge advantage, as JJ would get passed by Evan, and he would set off to run down Travis amongst heavy traffic. The top two would use all three grooves to dice and slice in and amongst traffic. Eighth place starting Jason Solwold and ninth place starting Roger Crockett also went high, wide and low to move up into the top five. Jason would pull a slider on JJ in turn four around lap 23 to take second, while Travis continued his fast pace through the slower cars. On lap 27, Travis would take his car too far into the cushion in turn two and tapped the wall, allowing Jason to blow by along with JJ, Roger and Robbie Price. Roger would slide past JJ a lap later, but Jason had already stormed around multiple lapped cars while building a near straightaway lead. As the laps ticked down, Jason was looking for his fourth Summer Nationals crown, but a caution on lap 35 for Justin Youngquist bunched the field together with five laps to go and no lapped cars separating the leaders. On the restart, Jason stopped Roger's move in one and two by blocking low, but Roger had built up enough momentum to slide Jason in turn three and take the lead. With precious few laps left, Roger would to take his second Summer Nationals win and his first since 1998 as well the $10,000 top prize. Solwold and Hickle rounded out the podium.
Travis Jacobson won the B feature.
Heat winners were Jake Helsel, Henry Van Dam, Eric Fisher and Mack Brown. JJ Hickle set the quick time.
Northwest Focus Midgets would make another appearance Saturday night. It would be Garrett Thomas dominating the feature event and taking the win.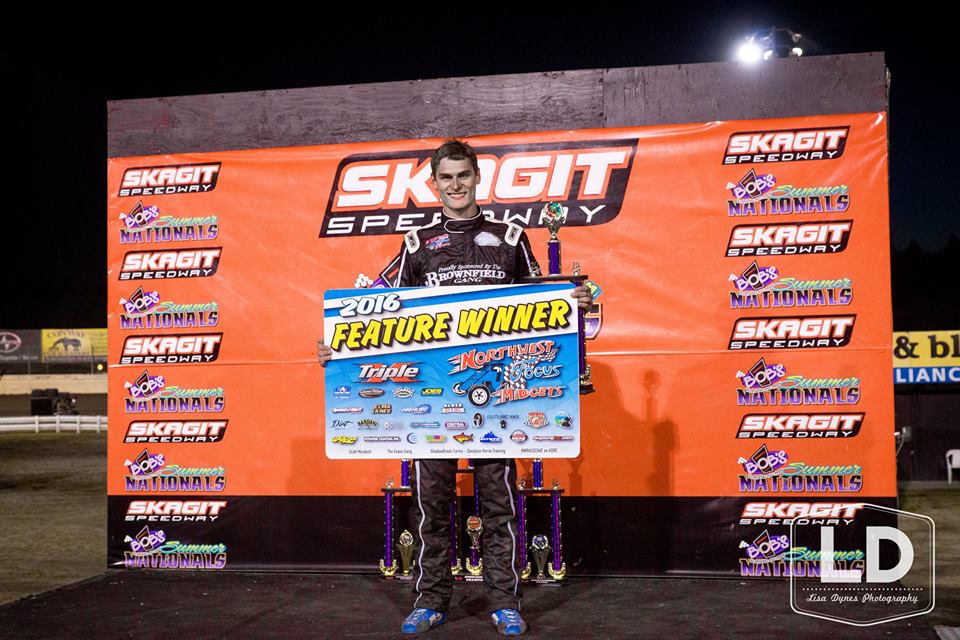 He would be followed by Nick Evans and Tristin Thomas as they took second and third.
SpeedMart Hard Charger Award went to Eric Turner.
Heat wins went to Nick Evans, Garrett Thomas and Ryan Cully.

---