Deming Speedway - July 8, 2016
By: info@speedmartinc.com ~ 7/11/2016
Deming Speedway
July 8, 2015
It was a night to remember for Dakota Drake in the MyTrafficman.net 600 Restricted division. Dakota drove the one of the best races of her young career as she would lead every lap and over come a white flag lap caution and a single file restart allowing the second place car of Bailey Sucich to get right up to the rear nerf of Dakota's car but, Bailey would not have enough as Dakota would hit her marks on each of the two remaining laps allowing her to pick up her first main event win at Deming Speedway to go along with her first feature win that she earned at Sunset Speedway in May.
It would be an all girl top three as Bailey would take second and Tatum Pospical finished third.
Tyler McLeod and Tatum Pospical would take heat wins. Bailey Sucich and Tyson Lemley set quick times.
The Kasey Kahne Junior Sprints would see Haley Constance picking up her seventh feature event win of the year. Blaine Granberg would give it his all to try past Haley and get his first feature win of the year, but Haley wasn't going to let it happen and Blaine would finish second and finishing 3rd would be Peyton Drake.
Macie Logsdon, Peyton and Haley all took heat wins. Macie, Alex Gouy and Haley would set the quick times.
Shots to Go Espresso 1200 would see Brock Lemley take advantage of his starting position on the front row next to Alex Lewis and get the jump and basically check out on the field and he would lead all 25 laps to take the win. Brock would come up on lap traffic and jump the tire of a lapper and almost put the car on its lid, but in typical Brock fashion he would collect it up gather it back in and take the win. Jared Gundersen would pass Clennon Holloway for second with a couple of laps to go, Clennon, subbing for the injured Steven Hendrickson in the #13 would finish third.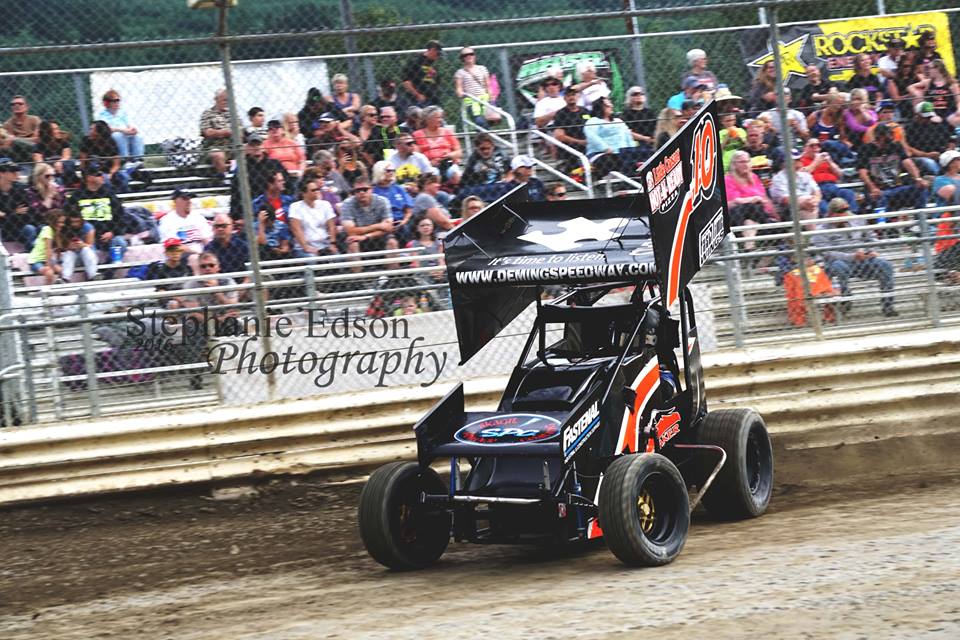 Heats were won by Clennon Holloway and Dustin O'Brien, driving the Johnson #7R. Quick times were set by Jared Gundersen and Liam Ryan.
SpeedMart/Hoosier 600 Open would have their feature event shortened as rain would move in, but would be action packed none the less, as Chase Schmidt and Derek Torkelson, starting start side by side, at the end of lap one Chase's car, coming out of 4, would lose power and with no where to go Derek and Chase would get together and both of them would fall back. Liam Ryan, starting fifth, would be up to second by lap four and would take the lead on lap ten as he would get around the #48T of Tanner Holm and the #7 of Kyle Mitchell.
Tanner and Kyle would finish second and third.
Heat winners were Brock Lemley, Tanner Holm and Liam Ryan. Kevin Wilkinson, Liam and Chance Crum set quick times.

---