Brownfield Classic - Grays Harbor Raceway - July 1 &2, 2016
By: info@speedmartinc.com ~ 7/6/2016
ASCS National
Grays Harbor Raceway - Elma, Wash.
2nd Annual Fred Brownfield Memorial
Friday, July 1, 2016
Sam Hafertepe, Jr. would pick up his fifth ASCS National Tour win of the 2016 season on Night One of the Second Annual Fred Brownfield Classic.
Starting third behind Johnny Herrera and Wayne Johnson, the leaders would make their way around the track as Herrera would slipp over the cushion in turns one and two. As the #2C would slip to the bottom it would open the door for Hafertepe, as the battle would go three wide with the advantage going to Sam Hafertepe, Jr.
"This is pretty awesome. To start there in the fourth spot, you know, Wayne and Johnny were pretty tough early so we were just trying to run where they weren't and Johnny just went a little high off of two, and it was a little tough to navigate that corner, but that opened the door for me especially when Wayne kind of missed the bottom too," said Hafertepe of the victory."
"That got us out in front and I knew once we got to clean air and got the wing back a little bit, we were going to be okay. The car was really good."
Sam would be able to keep Wayne Johnson at bay on several restarts as they would find slower traffic in the closing laps, but it would be short lived as the caution flew on Lap 18. Wayne would be strong on the bottom line during restarts, he would roll nearly even with Hafertepe several times, but wouldn't be able to take advantage of those chances.
Sam would go onto take the win as Wayne would follow in the runner up position and Johnny Herrera would maintain third.
Sam would be high point driver of the night and Logan Forler would take hard charger honors as he would gain eight spots as he would start 16th and finish eighth.
B features would be won by Justin Youngquist and Roger Crockett. Heats would go to Sam Hafertepe, Jr., Robbie Price, Reece Goetz, Jay Cole and JJ Hickle.
The Northwest Focus Midget Series would make their appearance with the Brownfield Classic and it would be Eric Turner taking the win on night one.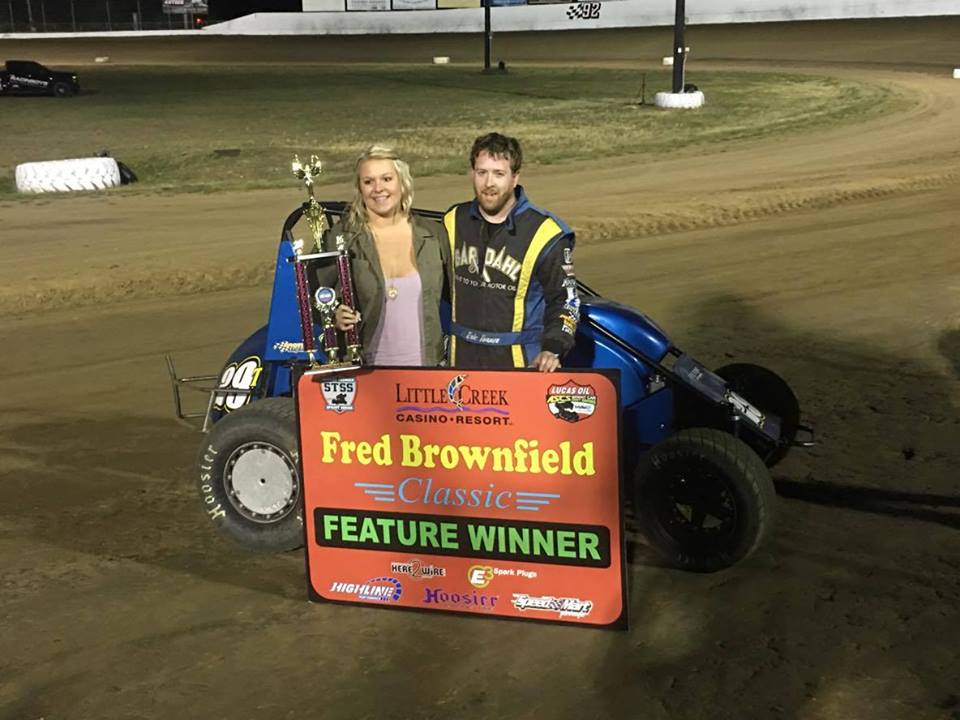 Nick Evans and Hannah Lindquist would make up the rest of the top three.
Heats were won by Nick Evans, Michael Hodel and Seth Hespe (Crum #83). Quick time was Dougie James.
ASCS National
Grays Harbor Raceway - Elma, Wash.
2nd annual Fred Brownfield Memorial
Saturday, July 2, 2016
Sam Hafertepe, Jr. made it a perfect weekend at the Grays Harbor Raceway as he would win the finale of the Second Annual Fred Brownfield Classic with the Lucas Oil American Sprint Car Series.
"I don't even know what to say anymore. It's awesome," said Hafertepe of his sixth Lucas Oil ASCS National Tour win of the season.
"To get out to the lead like we did, I knew Wayne [Johnson] was going to be tough. He was tough last night too. He gets around here pretty good so I knew he'd try the bottom on me and would be moving around searching but when I got out front, I got pretty comfortable and didn't want to really push it to hard, just try to catch the lapped cars at the right time and squeeze past one of them and not burn my tires off because it started laying rubber there on entry. I just tried to drive a smart race and try not to make any mistakes."
Starting third in the A Feature, Sam would waste no time taking the race for the lead three-wide through the opening turn. Rolling the bottom line to the race lead, Sam would keep Wayne Johnson at a consistent one second disadvantage for most of the race.
As they worked through slower traffic in the later portions of the feature, Wayne was able to close the gap, but was never able to capitalize.
Wayne would come across in second and Johnny Herrera was third....just like the previous night.
High point would be Cory Eliason and Jason Solwold would take hard charger after gaining 16 positions.
B features were won by Evan Margeson and Travis Rilat.
Cory Eliason, Jay Cole, Travis Jacobson and Colton Heath had heat wins.
Night number two would see Tristin Thomas take the win in the Northwest Focus Midget Series feature event.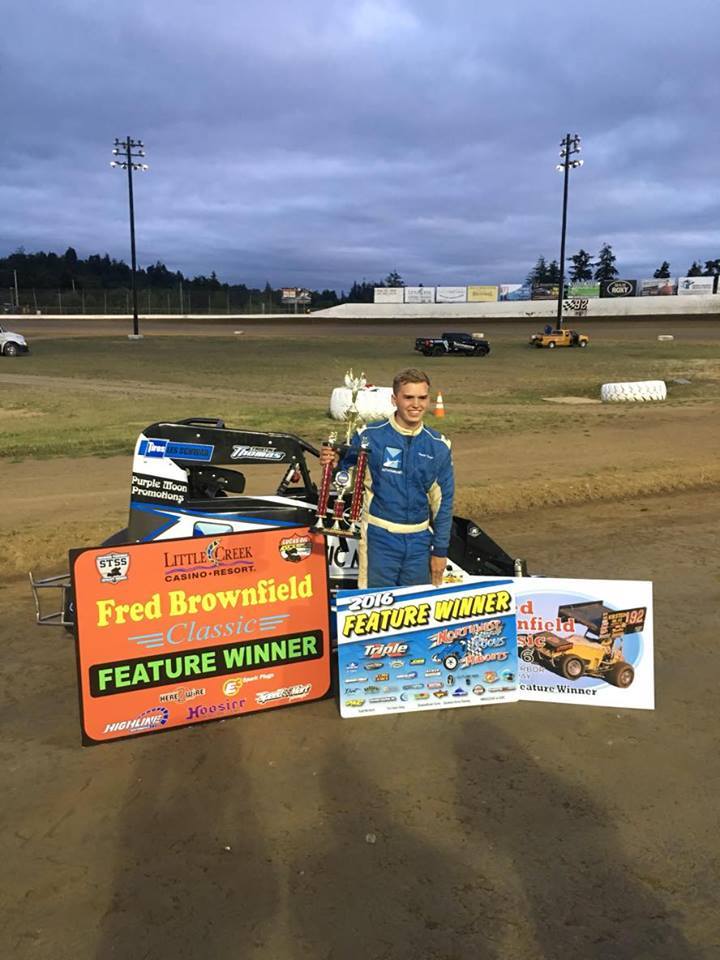 Nick Evans would pick up another second and Seth Hespe, in his second night piloting the Crum #83, came across in third.
SpeedMart Hard Charger was Kenzie Thomas.
Heat winners were Nick Evans, Seth Hespe and Ryan Cully. Quick time was Tristin Thomas.

---