2016 Dirt Cup - Skagit Speedway
By: info@speedmartinc.com ~ 6/27/2016
ASCS National
Skagit Speedway - Alger, Wash.
45th Jim Raper Memorial Dirt Cup
Friday, June 24, 2016
This was Marc Duperron's third Lucas Oil ASCS National Tour A-Feature start and he would be the 133rd different winner with the Lucas Oil ASCS and the 10th different winner in 2016. He would also be the first Canadian to score a win against the Lucas Oil ASCS presented by the MAVTV Motorsports Network. This was also his first win at Skagit Speedway.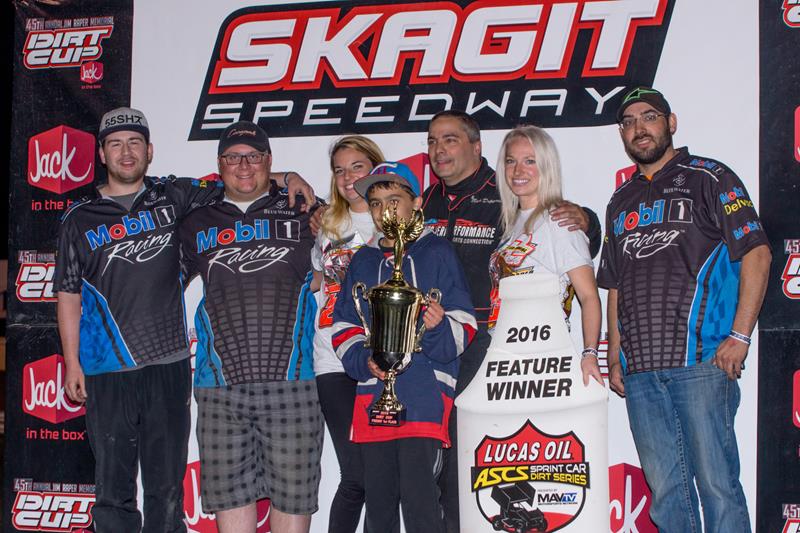 "I was just thinking, if you would have asked me about Wednesday night on the way up here with this being out first race of the season, I would tell you that you were full of crap if you'd would have said this car was going to be up front, but hats off to the guys that work on this thing," said Duperron, who led flag-to-flag on Friday night."
"It's been nine months. I could have had a baby since I was in the car last but we had a lot of luck go our way and lot of good guys on this car."
To add to some of the anxious moments there would be several rounds of reds and cautions on the start of the A-Feature that would see several restarts of lap one. Some of those collected in the mayhem were Seth Bergman, Jake Helsel, Travis Rilat, and Chase Goetz. On each restart there would be a challenge by Jason Solwold as he would charge every line in an attempt for the lead. He was able to take the lead at one point, but a red flag would bring the field back to the last fully completed lap putting Marc back to the lead.
Marc would protect the bottom as the race finally got rolling, finding light traffic at the race's half-way point. As he worked around a few slower cars, the caution would fly again as Justin Youngquist and Wayne Johnson spun to a stop top in the second turn.
Duperron would keep it smooth and clean, winning by 1.339 seconds.
Jason would maintain his second position and Blake Hahn would take third.
The B features were won by Johnny Herrera and Steve Reeves.
Wayne Johnson, Sam Hafertepe, Jr. and Blake Hahn each won a qualifiers race. Heats were won by Eric Fisher, Skylar Gee, Jason Solwold and Marc Duperron.
High Point was Travis Rilat and Hard Charger was Trey Starks (+11).
....plus the Northwest Focus Midgets
It would be one of the biggest races for Nick Evans when he would pull off a late race pass to pick up the Northwest Focus Midget feature win at the 45th Jim Raper Super Dirt Cup.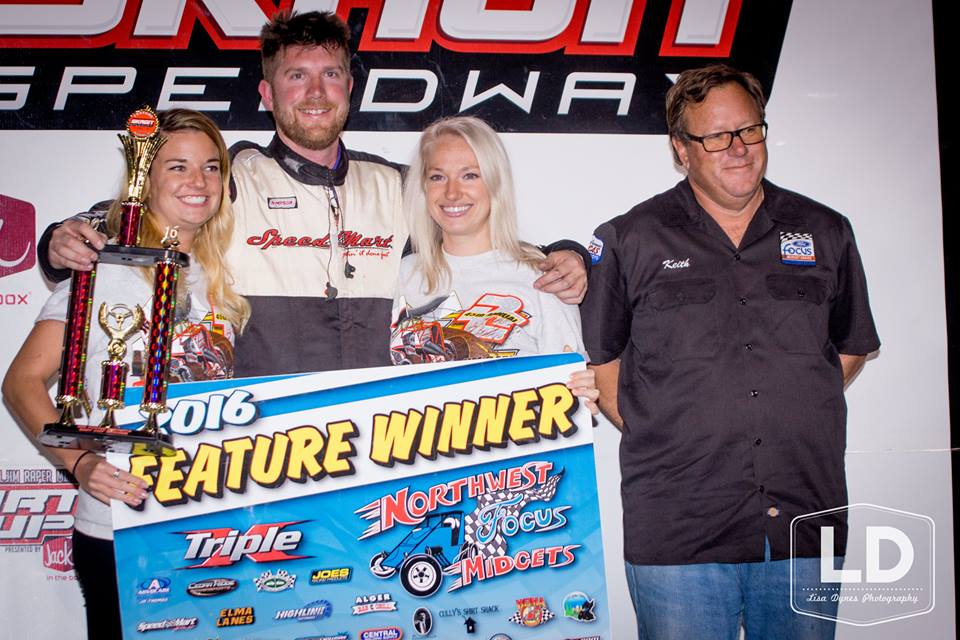 This was not only Nicks second win in a row it was his first win in his midget car at Skagit Speedway.
He would be followed to the finish line by Doug James in second and Chance Crum in third.
The SpeedMart Hard Charger was Jacob Brown...gaining 13 spots.
ASCS National
Skagit Speedway - Alger, Wash.
45th Jim Raper Memorial Dirt Cup
Saturday, June 25, 2016
Sam Hafertepe, Jr. turned in a dominating performance with the Lucas Oil American Sprint Car Series presented by the MAVTV Motorsports Network as he would lead start to finish at the Skagit Speedway in the 45th annual Jim Raper Memorial Dirt Cup presented by Jack in the Box.
Putting the win into words, Sam stated, "You know, this is pretty awesome. I know a lot of these fans know that Rudeen gave me my first opportunity up here so I was able to get a lot of laps around here. We won an Outlaw show here, and tried the Dirt Cup a few times with those guys and just never got it done, so to come here tonight, and get Dirt Cup in my car; I just really have to thank Rudeen for everything they've done for me through the years because this it's just awesome."
Starting second, he would take his Keith Dobbs Motorsports #15h ahead of defending race winner, Jason Solwold into the first two turns to begin building a comfortable advantage.
Sam would work the cushion at both ends of the Skagit Speedway as he would make his way around, then traffic would become a major factor as they got into the tenth lap and it would force Sam to begin searching the bottom.
This would allow the Mike Anderson owned #18 to shave a few seconds off Hafertepe's advantage, however, he would stay out of trouble as he delivered slide jobs to the slower cars in almost every corner.
Asked of his level of concern, Sam said, "I was definitely concerned. When you see the No. 87 rolling up on the board, and the No. 23, both are tough competitors and I knew if they were able to get by Jason [Solwold] they were going to be pretty tough so I burned the tires off just giving everything I could give it. We were blistered on every block because I was not conserving tires, I was trying to get a far ahead of them guys as I could."
Sam would pull out to a nearly five second advantage as the race rolled just past the half-way point before the caution would fly on Lap 22. With several lapped cars in the restart lineup, Sam was able again to pull to a comfortable advantage; this would leave Jason to contend with the hard charging #23 of Seth Bergman.
Working to second, Bergman began closing in on Hafertepe as Aaron Reutzel went to work on Jason Solwold for the third spot. Trading positions several times, the #87 finally grabbed the spot on Lap 33.
Under green flag conditions, Sam was elbows up through traffic, lapping to 11th place.
Close quarters racing between Seth and Aaron in the closing laps that would see the pair tap tires more than once, Aaron, from 10th, would take the runner-up spot on Lap 39.
Aaron and Seth followed Sam in the second and third spots.
B features were won by Travis Rilat and Skylar Gee.
Matt Covington, Aaron Reutzel and Logan Forler would take qualifier race wins. Heats were won by Seth Bergman, Wayne Johnson, Eric Fisher, Travis Jacobson and Colton Heath.
High Point was Travis Jacobson. Chase Goetz would take Hardcharger (+11).

---