Rob Lindsey - Wingless Sprint Cars
By: info@speedmartinc.com ~ 6/20/2016
June 11, 2016
Rob Lindsey would get the win at Grays Harbor Raceway with Wingless Sprint Series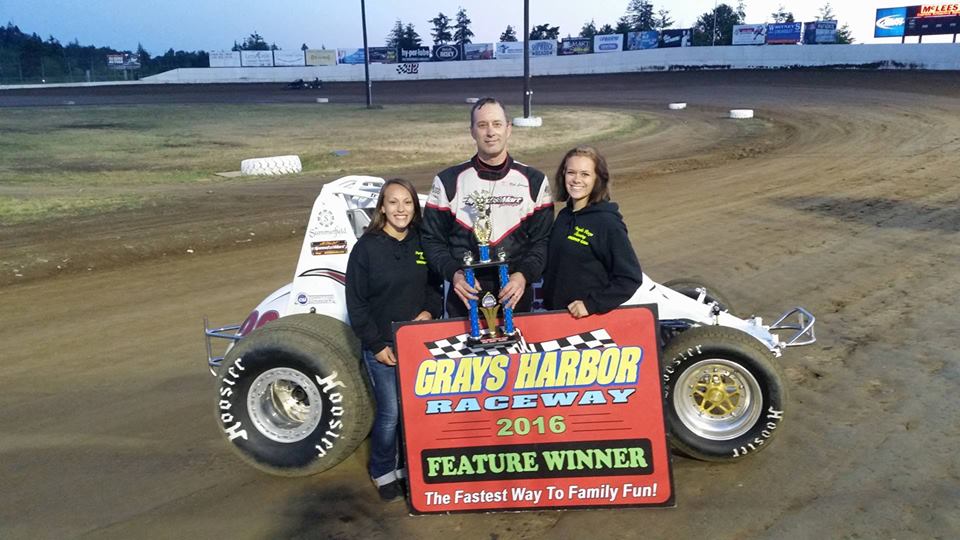 Rob Lindsey would lead the field to the green flag as Jonathan Jorgenson would be right on his tail. Jake Gilman and Tim Alberding would battle for third it would be Gilman winning the battle and would take over third. It would be lap 3 when the first caution came out as two cars made contact on the back stretch.
Rob would have tough company as Jonathan would be on his back bumper until lap 5 and Jorgenson would spin in turn one. On the restart Lindsey would slowly pull away from the field, as Gilman and Alberding maintained the two and three spots. Lap seven would see another caution.
Lindsey looked to have a perfect restart as he would pull out in front of Gilman, Alberding and Sterling Kane. A lap 10 caution would see a fourth place running Kane spin in turn four.
On the restart Gilman would look to the inside line of Lindsey in turn one on, but wouldn't have the momentum to pull off the pass. This would allow Rob to pull away by a handful of car lengths to go onto his win at Grays Harbor Raceway.
Jake Gilman would finish in second and Jonathan Jorgenson would come in third.
Rob would also set quick time, win his heat and the dash.
May 7, 2016
Rob Lindsey Scores WSS Opener At Madras
It would be Tim Alberding setting the pace early in his Alberding Racing #52 XXX. Alberding would have the lead for the first half of the race. But he would get overtaken and passed by the #07 of Ryan Arnold.
As the race progressed, Ryan would have his hands full late in the race. Rob Lindsey, who started seventh, would put pressure on Arnold before a late race yellow would bunch the field up one last time. The Maxline Custom Cases/Summerfield Golf & Country Club/Competition Suspensions Inc./Speedmart Inc. #23 XXX would take to the high side and get around Arnold for the lead. Rob managed to stay in position for the rest of the distance to win the first Wingless Sprint Series feature.
Ryan Arnold would follow in second and Tim Alberding finished third.
Rob would also take a heat race win and the trophy dash.

---