Deming Speedway - Opening Night, 4/1/16
By: info@speedmartinc.com ~ 4/11/2016
Deming Speedway
April 1, 2016
Opening Night at Deming Speedway!
Macie Logsdon would take the lead on lap two of the Kasey Kahne Juniors feature event and without looking back, she would go on to take the win. Lane Taylor and Haley Constance would follow in second and third.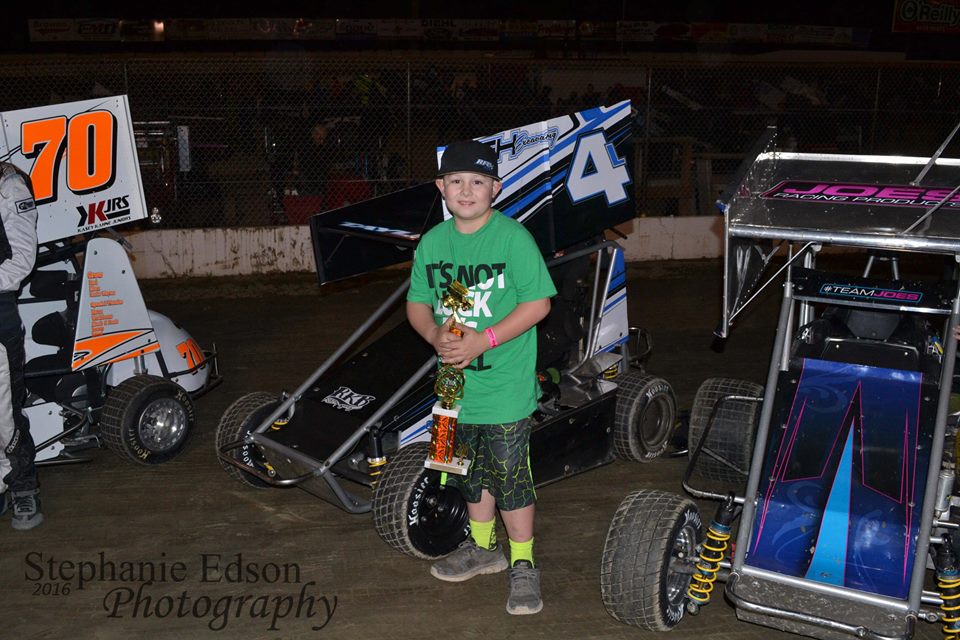 The MyTrafficMan.net 600 Restricted would see Peyton Hagen taking the early lead, leading ten laps until Bailey Sucich would take over the lead and lead the next ten laps. She and Kaden Holm would battle, bumping into each other until they would come together and lock wheels and both cars would meet with the front straightaway wall. Sawyer Sorgenfrei, filling in for Darius Walker, who had been following the leaders in third, would take over the lead. He would lead the final five laps to take the win. Peyton Hagen and Jesse Schlotfeldt would follow in second and third.
Colby Thornhill, Lynden Lebedynski and Jesse Schlotfeldt would be the fastest in the three qualifying sessions. Heat winners were Dakota Drake, Tyson Lemley and Sawyer.
The Shots2 Go Espresso 1200's would see Nate Vaughn going to the lead, not looking back and without any real challenge, to take the win. Brock Lemley and Jared Gundersen would battle for second and third, with Brock taking the second spot when Jared slid to the top and Brock would get under him for the pass. Jared finished third.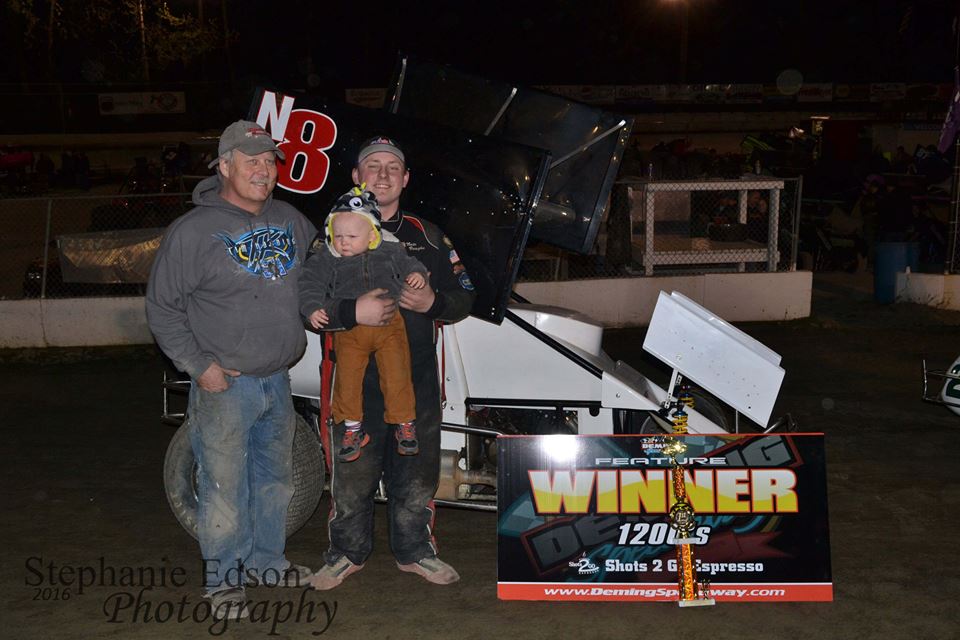 Eric Turner and Tyson Cross would be the fastest in the two qualifying sessions. Heat race winners were Russ Johnson and Jared Gundersen.
The SpeedMart/Hoosier 600's would see Chance Crum and Derek Torkelson battle for the lead. Chance would lead the first lap and then it would be Derek taking the lead and leading the next 13 laps. On lap 16, Chance would take over once again, but Derek wouldn't let him have an easy time of it as he would stay on Chance, challenging him throughout the remainder of the race. Chance would hold him off in his Farrell Frameworks chassis and take the win. Derek would finish second and Isaac Abernoth came in third.
Derek, Chance, Kevin Wilkerson and Josh Monroe would be the top quickest cars in the four qualifying sessions. Tanner Holm, Keith Wickard, Spud Allen (filling in for Kaitlyn Hammer) and Isaac Abernoth would take heat wins. Ashleigh Johnson won the B Main.

---