Clay Cup 2016 - Deming Speedway - July 14-16, 2016
By: info@speedmartinc.com ~ 7/18/2016
Liam Ryan, Jared Gundersen, Colby Thornhill & Blaine Granberg Score Clay Cup Titles at Deming Speedway!
Deming Speedway would see the best of the best at the 32nd Annual Clay Cup Nationals, July 14th thru the 16th, 2016!
As they lined up for the 40-lap main event it would be defending champion, Liam Ryan and 2007 champion, Jared Peterson, starting on the front row side-by-side. Liam and Jared would bring the field to the green.
Liam would snatch the early lead as Jared was able to apply pressure for the top spot. As the two former Clay Cup champions raced for the lead, they searched high and low around the track, searching for the fast way around. After two cautions early on, drivers would see their final restart on lap 14 as they returned to racing with 36 laps left.
Both boys would quickly separate themselves from the field and the battle would heat up as traffic would come into play with ten to go. Liam would be able to catch the breaks in the beginning stages, but as the laps dwindled and with five to go and Jared finally in clean air and as he jumped up top and would run the cushion right along the wall to reel Liam back in.
Liam would take the white flag by about a half-straightaway, as Jared continued to will his way forward with drive off the high side. As they entered turns three and four for the final time, Liam dove to the bottom and Jared pounded the top. As the duo raced to the flag stand, Liam slid up to block Jared's momentum and to go onto take the win.
Jared, said "I have never driven a car harder than I drove those last five laps," ended up with a second place finish. Thursday's preliminary winner, Chase Schmidt, claimed the third spot to round out the podium.
B feature #1 winner Emily Williams, along with Keith Wickard and Tanner Holm as will as B feature #2 winner Kyle Mitchell along with Riley Watkins and Cody Key would go onto the feature event.
Following an impressive performance on Thursday's preliminary night, Jared Gundersen earned the front row starting spot for Saturday's feature event in the 1200 division. Defending champion, Liam Ryan, would go out on the opening lap due to a vicious flip. Jared and Dustin O'Brien would bring the field to a successful re-start.
As soon as the green flag dropped, Gundersen went into complete domination mode as he would lead all 40 laps, going untouched from start-to-finish and scoring the biggest win of his career.
Following him across the line was Dustin O'Brien in second and Steven Hendrickson in third.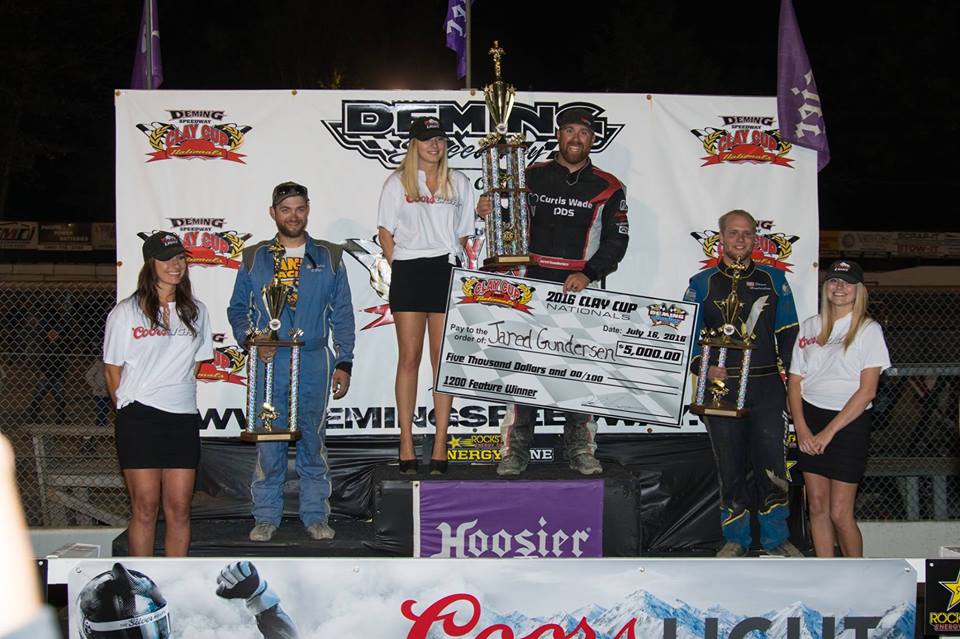 B feature winner Dick Williams as well as Clennon Holloway, Frosty Metcalfe, Brian Haling, Alex Lewis and Doug Leemon would go onto the feature event.
Colby Thornhill and Caden Sarale would tie with 708 points on their qualifying nights, the two friends started first and second on the front row.
Right from the get go Colby would move his #19 into the lead, but would get the challenges of Jesse Schlotfeldt in the early running as made quick work of Caden, as he stole second and went on to take on Colby.
Jesse would catch Colby just before the halfway mark and would show his nose entering turn one and that would be all the motivation Colby needed. The nine-year old would move his car up a lane and would kick into another gear as he would show veteran like characteristics and made his way through lap traffic. Colby would dominate the final half of the 30-lapper to go onto score the biggest win of his impressive career with a Clay Cup Nationals title.
Caden Sarale would make a late-race pass to finish in the second position as Jesse Schlotfeldt dropped back to claim third.
Tyler McLeod would win the B feature. Levi Klatt, Peyton Hagen and Blake Parmley would all go on to the feature event.
This being the inaugural year at the Clay Cup Nationals, the Kasey Kahne Junior Sprints provided an interesting main event on Saturday night.
Haley Constance, with her perfect preliminary night score and her front row starting position, led the opening 18 laps of the championship feature before heartbreak struck as her muffler fell off which would result in a disqualification.
Taking the lead with six to go, Blaine Granberg would lead the remaining six laps and became the first Junior Sprint champion in Clay Cup history!
Jade Avedisian and Macie Logsdon would finish out the podium.
B feature winner Drake Hadlock as well as Miles Massie, Karlyn Kocher and Baker Fagerlie would go on to the feature event.
* information courtesy of Brian Walker - Maximum Dirt
Thursday - Preliminary Night #1 - July 14, 2016
1200 Feature: Liam Ryan - Derek Holmwood - Tanner Reid
Heats: Liam Ryan - Doug Nunes - Brock Lemley
Fast Time: Seth Hespe
600 Open feature: Chase Schmidt - Raio Salmon - Brock Lemley
B features: Tanner Holm - Derek Torkelson
Heats: Jake Andreotti - Brock Lemley - Kyle Mitchell - Keith Wickard - Emily Williams - Chase Schmidt
Fast Times: Liam Ryan - Derek Torkelson
600 Restricted feature: Jesse Schlotfeldt - Tyson Lemley - Colby Thornhill
B feature: Katie Turner
Heats: Parker Hadlock - Keith Day, Jr. - Bailey Sucich - Ryan Williams
Fast Time: Kaden Holm
Junior Sprints feature: Haley Constance - Mitchell Helsel - Macie Logsdon
Heats: Haley Constance - Isabel Barnes
Fast Time: Haley Constance
Friday - Preliminary Night #2 - July 15, 2016
1200 feature: Dick Williams - JJ Hickle - Nate Vaughn
Heats: Dustin O'Brien - Nate Vaughn - Steven Hendrickson
Fast Time: Jared Gundersen
600 Open feature: Jake Andreotti - Chance Crum - TJ Smith
B features: Shaun Holtorf - Kevin Wilkinson
Heats: Kyle Mitchell - Michael Laughton - Chance Crum - Liam Ryan - Jon Farrell - Brooklyn Holland
Fast Times: Derek Torkelson - Liam Ryan
600 Restricted feature: Jesse Schlotfeldt - Caden Sarale - Keith Day, Jr.
B feature: Colby Thornhill
Heats: Casey Smith - Caden Sarale - Colin Mackey - Jesse Schlotfeldt
Fast Time: Colby Thornhill
Junior Sprints feature: Miles Massie - Dylan Bloomfield - Blaine Granberg
Heats: Jade Avedisian - Peyton Drake
Fast Time: Blaine Granberg

---