ASCS Frontier Region - Southwest Region/Trey Starks Wins @ CGS
By: info@speedmartinc.com ~ 6/21/2016
ASCS Frontier Region
Electric City Speedway – Great Falls, Mont.
Friday, June 18, 2016 (Non-Points Event)
Ramaker Reigns Supreme Friday Night At Electric City Speedway
It would be Joe Ramaker's 17th career victory with the Brodix ASCS Frontier Region in his #98 and he would be chased to the line by Kelly Miller and Skylar Gee.
Heat winners were David Hoiness, Skylar Gee and Joe Ramaker.
Electric City Speedway – Great Falls, Mont.
Saturday, June 18, 2016 (Non-Points)
David Hoiness Tops Rained Delayed Brodix ASCS Frontier Outing at Electric City Speedway
Rain would delay some of the night's racing at the Electric City Speedway with the Brodix ASCS Frontier Region. It would be David Hoiness making the best of his opportunities by taking the win in his Miller Lite #27dd. David is also the fourth winner in just as many races in 2016 with the Frontier Region.
Joe Ramaker would take second and Kyle Miller finished third.
Skylar Gee, Trever Kirkland and Kelly Miller were heat winners.
ASCS Southwest Region
Canyon Speedway Park – Peoria, Ariz.
Saturday, June 18, 2016
Lance Norick Tops Canyon Speedway Park with Carlyle Tools ASCS Southwest Region
Lance Norick came out of the Canyon Speedway Park with his second victory of the season, taking the win in the Carlyle Tools ASCS Southwest Region for the fourth time in his career.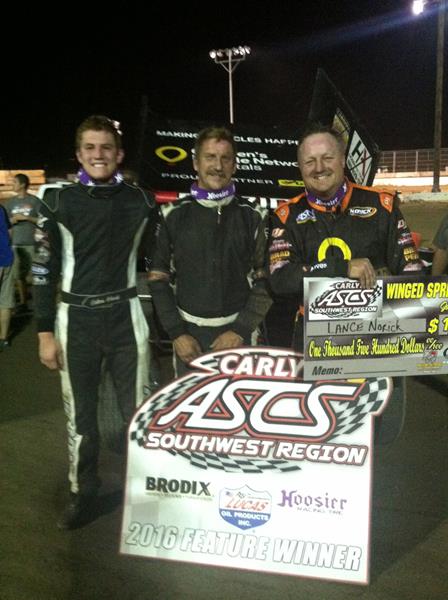 Norick, who started fifth, would give chase for the first 10 laps as Rick Ziehl would take the lead from the pole to show the way. Taking over the lead on Lap 11 Norick would have to battle the top six drivers to get his win.
Rick Ziehl would finish second and Colton Hardy would be third.
Heats were won by R.J. Johnson and Derek Sell.
Trey Starks scores his third straight victory at Cottage Grove Speedway.
The night began with Trey setting quick time during qualifying.
"We drew the highest pill so we were last out, but Brian Crockett had the track sealed up pretty good because they were going to get some rain," he said. "I knew it wasn't going to matter where we went out because the track was pretty equal for everybody."
Trey would start fourth and would make his way to second place during a trophy dash. He came from sixth to take second place in his heat race to lock himself into the feature redraw and he was able to draw the pole position for the 30-lap main event.
"I just knew I had to get a good start and set a really good pace because I had guys like Roger Crockett behind me," he said. "We jumped out to the lead early. The track was real, real wide. The cushion was basically over the edge and the bottom was real narrow. It was a really good and racy race track. I tried to keep track of the track and make sure I was on the fastest part of the track at all time. The groove was changing throughout the race."
Roger Crockett and Kyle Miller would follow Trey as they would take second and third.

---