Skagit Speedway 6/4/16 - STSS @ GHR
By: info@speedmartinc.com ~ 6/8/2016
Skagit Speedway
June 4, 2016
It would be Devin Barnes leading all 25 laps for his first win in the Cook Road Shell Sportsman Sprint Car division.
Joe Lyon would come from the back to take second and Kevin Kirkpatrick finished third.
Heats were won by Bill Rude and Julian Fuentes. Fast time was Bert Johnson.
Tristin Thomas would hold off Eric Turner and Garrett Thomas for the feature win in the Northwest Focus Midgets Series.
Eric Turner was second and Garrett Thomas finished in third.
Heat wins went to Tristin Thomas, Nik Larson and Jacob Brown. The B feature was won by Tanner Holm.
The Washington Modified Tour would put on a great show and it would be Lawrence O'Conner pulling off the victory.
It would be Jason Beaulieu coming in second and Aaron Weston finished third.
Jeff Jansma and Lawrence O'Conner would win the heats.
Summer Thunder Sprint Series
@ Grays Harbor Raceway
June 4, 2016
It would be the #9R of Reece Goetz setting the field to the green flag of the 30 lap Summer Thunder Sprint Series feature event. Reece would take the early lead with Jason Solwold moving into the second spot. Cam Smith and Travis Jacobson battled for the third spot, before Jacobson set his sights on Solwold, who was reeling in Reece. Travis got past Jason for second on lap five and it would allow Reece to pull away slightly. First caution would come out on lap 8. On the restart Reece led Jacobson to the green flag, as Jason looked to the inside of Travis, but wouldn't be able to make the pass. Cam and Trey Starks battled for the fourth position, as the caution came out once again on lap 10.
Reece would work to hold off the hard charging duo of Travis Jacobson and Jason Solwold on the restarts. Jason got by Travis on the lap ten restart and move into the second spot, setting up a battle between both drivers. Reece would be able to slowly pull away but a late race red flag on lap 20 would give Solwold a shot at the lead as Jacobson would have to pull into the pit area with mechanical problems. Goetz would get a great restart allowing a little distance between him and Solwold. Trey would be able to move into the second position as he was able to get by Solwold with a handful of laps to go and would set his sights on Goetz. Trey would look to the inside a few times to try and take the lead but Reece had momentum on his side as he would use the high side of the raceway to maintain his lead. As they were coming to the white flag, Trey would look to the inside in turn three as he would pull a slide job to go on to win with a last lap, last corner pass.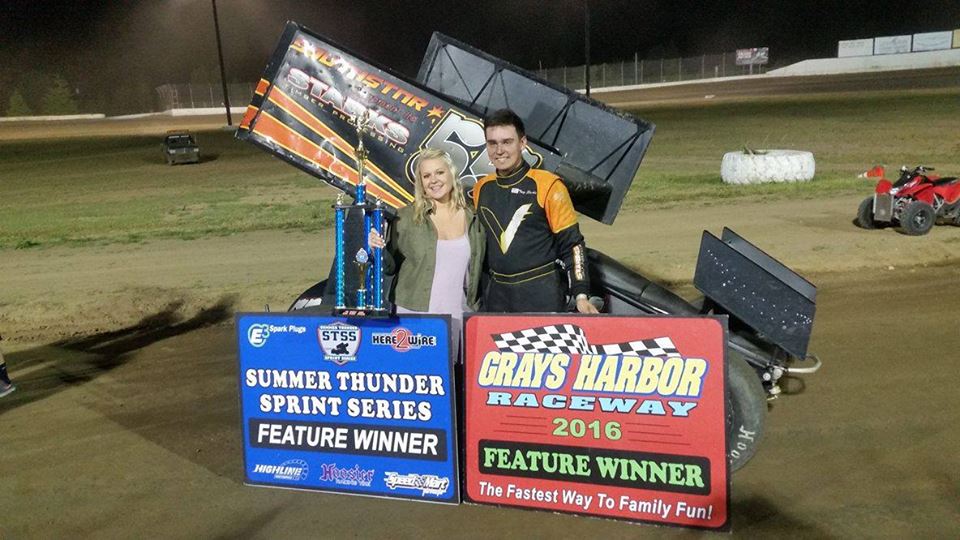 Reece Goetz would stay in second and Jason Solwold finished third.
Heat winners were Colton Heath, Luke Didiuk, Jake Helsel and Mike Romig. Justin Youngquist would win the B feature. Travis Jacobson had fast time.

---