DEMING SPEEDWAY
AUGUST 8, 2011
1200'S


STEVEN HENDRICKSON
SPEEDMART / HOOSIER 600'S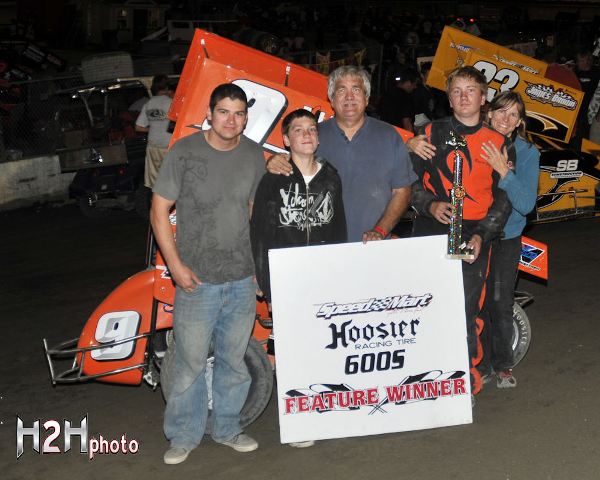 REECE GOETZ
600 RESTRICTED


JACOB BROWN
KASEY KAHNE JR'S


ELI SCHMIDT
SKAGIT SPEEDWAY
BOB'S BURGERS & BREW 360 NATIONALS
FRIDAY NIGHT
JOSH DEWITT
Fast time Jayme Barnes 11.828
Heat 1: Colton Heath, Trey Starks, Kelly Miller, Barnes, Mack Brown
Heat 2: Kelsey Carpenter, Jesse Dakus, Casey Adams, Brian Kirkpatrick, Colton Akerstrom
Heat 3: Chad Hillier, Jason Solwold, Bud Ashe, Jason Cocking, Ozzie McGee
Heat 4: Devin Madonia, Travis Jacobson, Logan Forler, Aaron Fell, Wheeler Boys
Heat 5: Mason Moore, Jared Peterson, Josh DeWitt, Danielle Huson, Danny Kirkpatrick
C Main (top 4 transfer) Brandon Harkness, Wheeler Boys, Ozzie McGee, Clayton Sibley, Luke Didiuk, Cale Brooke, Bill Rude, Ashley Lewellen
B Main (top 5 transfer) Barnes, Huson, Alan Munn, Tayler Malsam, David Miller, D. Kirkpatrick, Fell, Rod Perkins, Didiuk, Akerstrom, Boys, Cocking, Sibley, Cody Ridge, Brown, B. Kirkpatrick, McGee
A Main (30 laps) Josh DeWitt, Solwold, Heath, Jacobson, Moore, Huson, Hillier, Forler, D. Miller, Dakus, Starks, Ashe, Peterson, Madonia, Carpenter, Adams, Barnes

SATURDAY
TRAVIS JACOBSON CHAMPION

WINS BOBíS BURGERS AND BREW 360 NATIONALS AT SKAGIT SPEEDWAY
(Alger, WA) 8/6/11 by Kelly Hart
You can now call him two-time Bobís Burgers and Brew 360 Nationals champion as Travis Jacobson led all 40 laps for the $10,000.00 winnerís check at ASA member track Skagit Speedway. Jacobson was chased by Jason Solwold, Chad Hillier, Colton Heath and Josh DeWitt. Those five racers thrilled the crowd for 39 ĺ laps when Solwold, Heath and DeWitt were all caught up behind a spinning car, with Solwold going low, Heath getting airborne and DeWitt sliding into the mess in front of them. Jacobson and Hillier made it past the melee with Hillier moving back to second from fourth.
The race had two yellows and two reds. But featured 40 laps of edge of your seat thrill ride entertainment as not only were the five car battles up front epic but also the rides of Logan Forler and Jayme Barnes from deep in the field to finish third and fourth. Trey Starks was fifth.
Bud Ashe held off a loaded B main field for the win. One of the biggest of his career. The six transfer cars from the B main were Ashe, Devin Madonia, Kelsey Carpenter, Brian Kirkpatrick, Casey Adams and Mack Brown.
Brandon Harkness won the C scramble decisively as well as the 12-lap C Main event night. The C main transfer cars were Harkness, Ozzie McGee, Luke Didiuk, and Cale Brooke. Devin Madonia was the B scramble winner with Bud Ashe second. Jason Solwold won the A scramble with Travis Jacobson picking up a spot to earn the front row outside starting position.
RESULTS
C SCRAMBLE Brandon Harkness, Ozzie McGee, Bill Rude, Cale Brooke, Luke Didiuk, Ashley Lewellen
B SCRAMBLE Devin Madonia, Bud Ashe, Casey Adams, Kelsey Carpenter, Rod Perkins, Aaron Fell
A SCRAMBLE Jason Solwold, Travis Jacobson, Danielle Huson, Chad Hillier, Colton Heath, Alan Munn
C MAIN (top 4 transfer) Brandon Harkness, Ozzie MCGee, Luke Didiuk, Cale Brooke, Glen Reinstra, Bill Rude, Ben Gunderson, Ashley Lewellen
B MAIN (top 6 transfer) Bud Ashe, Madonia, Carpenter, Adams, Mack Brown, Cody Ridge, Colton Akerstrom, Jason Cocking, Didiuk, Wheeler Boys, McGee, Fell, Brooke, Harkness, Clayton Sibley, Danny Kirkpatrick, Rod Perkins
A MAIN Travis Jacobson, Chad Hillier, Logan Forler, Jayme Barnes, Trey Starks, Jared Peterson, Danielle Huson, Jesse Dakus, Alan Munn, David Miller, Mason Moore, Kelly Miller, Kelsey Carpenter, Casey Adams, Jason Solwold, Colton Heath, Josh DeWitt, Bud Ashe, Brian Kirkpatrick, Tayler Malsam, Mack Brown, Devin Madonia
MIDGETS IN NEW ZEALAND
Malcom Crook's midget (orange car)
THE OLD


THE NEW